2018-2019 Adelphi Community Reads Selection
Weapons of Math Destruction by Cathy O'Neil
The 2018-19 Adelphi Community Reads selection is Cathy O'Neil's Weapons of Math Destruction. In each chapter, O'Neil addresses the role of a rapidly evolving data industry within a particular aspect of 21st-century American society, from policing to college rankings to auto insurance. This selection offers a great opportunity for all of us—students, faculty, staff, and others—to think in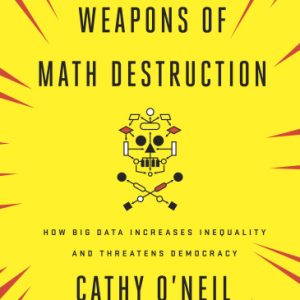 nuanced and ethical ways about our society, and our place in a democracy and marketplace increasingly governed by complex, and potentially dangerous, algorithms. Subtitled "How Big Data Increases Inequality and Threatens Democracy," the book is written in a clear and accessible style and offers many exciting opportunities for various departments and offices around campus to develop programming related to the questions it raises. 
Please keep checking this site for announcements about events and other programs connected to the Adelphi University Reads Program. 
Interested in organizing an event to discuss the book?
In 2018-19 the Collaboration Project again has funds to help units that want to organize events such as speakers, roundtables, and related activities. This book lends itself to participation in so many ways—from computer science/math to education, from criminal justice to business, from social work to political science. We hope that people all around campus will come together to debate, challenge, and/or complicate the issues explored by O'Neil.
The Collaboration Project offers up to $300 for events that are in line with the Project's principles. Every request must be submitted using this form. Organizers are required to collaborate to get these funds. The CP has learned that co-sponsored events increase engagement, buy-in, and attendance, and so every organizer is asked to get 1 or more co-sponsors for the event. Don't forget student organizations as you plan! Of course, requests for co-sponsorship that don't involve funding are also welcome. Questions can be directed to Deborah Little at little@adelphi.edu.
» View Adelphi's Library Guide for Weapons of Math Destruction
---
Related Events
There are currently no entries posted for this department. Please check back later for new listings.
About Adelphi Community Reads
Adelphi Community Reads brings all members of the Adelphi campus community together in shared reading as well as book discussions and activities.
All freshmen will be given a free copy of the book, and additional copies—including an audio book—will be available at Adelphi libraries for all interested faculty, students and staff to check out and read.