In celebration of International Education Week, we invite you to game around the world at Swirbul Library. Play or teach games from different cultures and learn about about the world through games. Free food provided. Open to all Adelphi students.
Sponsored by the GAMES Club, Swirbul Libraries, Chabad Jewish Student Group, International Students Society, International Students Services, and The Collaboration Project.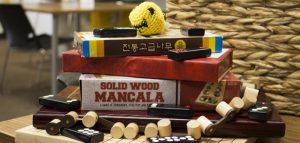 Should you require a disability-related accommodation to participate in a university-sponsored virtual event or program, please contact the Student Access Office by phone at 516.877.3806 or email at
sao@adelphi.edu
. When possible, please allow for a reasonable time frame prior to the event with requests for American Sign Language (ASL) Interpreters, Closed Captioning (CC), or Communication Access Real-time Translation (CART) Services; we suggest a minimum of five (5) business days.
---
For more information, contact:
Tatiana Bryant
Assistant Professor, University Libraries
Swirbul Library Room 205
p – 516.877.3555
e – tbryant@adelphi.edu
Coronavirus Update: As New York is on a "pause" for social distancing purposes, all in-person events for the next several weeks have been converted to online, postponed or canceled. Please check this page as information will be updated as possible—and call ahead before any upcoming in-person events until further notice. Thanks.