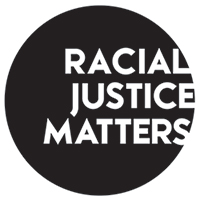 An international conversation with students, faculty, community leaders and social activists from around the globe will take place, using a new technology allowing for internet-based dialogue.
Participants will be part of conversations with representatives from the Philippines, India Chile, Peru, Norway, the Netherlands, Spain, Kenya and South Africa about race and racism at international, institutional, interpersonal and internalized levels and strategies, interventions and lessons learned in addressing this global problem.
This event is part of the
Racial Justice Matters
initiative, sponsored by the
Collaboration Project
. 
Logo designed by Kelly Serrao '16.
---
For further information, please contact:
Devin Thornburg
Professor, Ruth S. Ammon School of Education
e – thornburg@adelphi.edu